Parenting is a stressful job but not if your iPhone is equipped with essential applications.  Here is a list of suggestions for you to consider.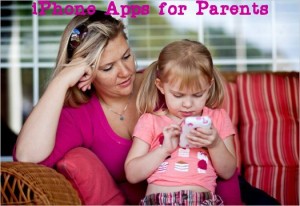 AroundMe
This app helps locate all types of establishments within your proximity. It also features a mapping function and allows you to send and share information with others.
My365
My365 is your mobile family album that allows uploading images even when on the go. The app is also easy to use; saving and categorising photographs is a breeze.
Mynd Calendar App
This can be considered as one of the best calendar apps around. It's built for busy parents and comes with functions like alert systems and a conference call button.
Voxer Apps
Walkie-talkies are not yet a thing of the past.  This application proves it by letting you hear your family's voices when you travel. You can also leave instant messages when you find it hard to compose long and complicated reminders.
Mobicip 
This is your ideal app when you want to control and monitor email messages of your kids. Configuration options can prevent email setup, turn off email access, and lock an email account. It works not only for emails but for other types of content as well such as movies, applications, and web pages.
Net Nanny
It's the ever reliable virtual nanny which you can configure to block undesirable things over the Internet like nudity, graphic sex, morbid violence, death, and other mature content.  With this app, you can be confident that kids at home are glued on computers safe and secure.
Squarespace Note
If you want quick note taking without the hassle of account login, folder saving, and finding your way through the options list, then this application is for you.  One interesting feature is that you can write notes and send them to your email accounts pronto and retrieve it later.
Fantastical
It merges functions of your iPhone Calendar Events and Reminder into one helpful application so you won't miss appointments and other scheduled activities for the day, week, or a month.
iHomeopathy
Quick first aide guide is now at your finger tips.  Install this app and learn about treating emergencies, childhood ailments, and other common household injuries or illnesses.
American Red Cross First Aid App
This app features a comprehensive guide on almost every imaginable emergency situations such as typhoon, earthquake, other calamities, and household incidents that need immediate attention.  It features first aid solutions for a broken arm, bee stings, fracture joints, poisoning, animal bites, and so much more.  What makes it very helpful is that it has preloaded images, videos, and illustrations that can be accessed even if you are not connected to the Internet.
WebMD's
With this application, parents have references at their fingertips when looking for signs and symptoms of several common diseases, making it easier to figure out what illness their children are suffering from.  This is just an instant resource though and not a replacement for actual doctors.
Find My Kids
With this application, parents can track their kids' whereabouts automatically.  You can have data on a child's destination and time of arrival.  It is also secure to use because data is kept confidential and limited between you and your kids only.
These essential iPhone applications make parents confident that their children are safe and secure always whether they are at home or not.