Playing with your iPad again? It's no wonder. But other than gaming, this tablet also works well for web access including chat, video calls, social networking, sharing images or files, business, and so much more. There are really countless possibilities available with your iPad to make life easier and fun. But aside from useful apps and functions, you should also learn tricks on different aspects for maximum enjoyment when tinkering with the device.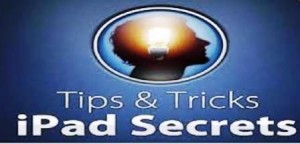 A Simple Tip for Charging
Very often, you don't see the charging indicator to verify whether or not your iPad is charging. You won't see the red light blinking or green light saturating a portion of your screen at times, which leaves you thinking that your gadget is not accepting power from the outlet. It actually does. The trick is to leave it as is and after the suggested charging time, pull it out and you will be surprised that it has actually charged power even without an indicator to confirm it.
Taking a Screen Shot of Your Best Scores
To take a screen shot of your best game scores, simply press and hold the off and on button on the upper right hand corner of the gadget for a few seconds and then press the home key. It can also be reversely done by pressing the home key first and then the on and off button.  Presto! The screen will turn white on the game app you are currently running followed by a snapshot sound from the unit indicating that a picture was just captured.
Adjusting Screen Brightness
You can easily configure the device's screen brightness with a few steps.  Just double tap the screen via the home button and swipe to the right until you see the brightness indicator to manually adjust brightness according to your desired level.
Protecting Your Confidential Data
Don't let hackers and other types of data thief access sensitive information by navigating this procedure: go to setting, then general, pass code lock, and proceed to erase data.  This will automatically activate once a data tamperer attempts to access your files and incorrectly enters the password ten times. Just make sure that you have backed up your data before enabling this feature though.
Making Apple Store Purchases a Secret
You can make your Apple Store purchases a secret by opening the App store, then clicking on the purchases section to find the app purchased you want to hide, then swiping to the right or to the left and holding down until the installed button in grey transforms into a red bar that says hide.  Tap the hide button and exit the app store.  To check if the hide attempt is successful, re-open the app store after a minute and go back to the purchased app area.
Multi-tasking Secrets Beneficial to you
Quite unknown to many, you can actually open a multi tasking bar to maximise several functions.  Just simply double tap the home button or swipe using four fingers unto your screen.  Afterwards, you will see the multi-tasking tray where you can adjust brightness, volume, and even instantly access audio and video files played as background sounds or images.
Multi-tasking finger gestures you have to remember
These three finger tapping movements will save you time and enables quick access to your iPad.  Use four fingers to do the following:
To revert to your home screen
To open multi-tasking bar
To switch from and in between apps
Setting a Volume Limit
You can instantly limit the audio volume by simply accessing the settings menu and scrolling down till you reach the music icon in orange colour. Search for volume limit and configure it according to your preference.
Making it humble
One of the most annoying things that can happen to people receiving an email from someone who owns an iPad gadget is the signature imprint at the end of the email.  For those who want to be humble and leave no information about the gadget they use to send the email, one can actually delete this by simply tapping the signature button and deactivating or deleting it.
Now that you know ten tricks and tips for your iPad, using this gadget will be less cumbersome and even more user friendly for you.